At Loop, we are committed to supporting people experiencing or living with disadvantage overcome the barriers they experience in achieving their work or life goals. We believe everyone has the right to pursue meaningful work.
We take a person-centred approach by putting the individual first. We support people with a disability, people experiencing or with an experience of homelessness, survivors of domestic abuse, mature age workers, migrants, refugees and many more. We empower individuals to build their independence, confidence and develop new skills.
We have supported over 80 people through our training and employment programs, who may otherwise face barriers to employment.
Meet some of our amazing participants
One of our lovely participants who has been training and working with Loop for over eight months.
Huai is from a small village, located in western Myanmar's Chin State. She came to Australia as a refugee in 2018, due to the worsening violence in her home country. She was also shortly followed by her childhood friend, Cing Hung, who grew up in a nearby village and also works with Loop.
She told us working with Loop makes her happy as it provides her with an opportunity to make money and new friends, whilst doing something she loves: sewing!
Another one of our amazing participants, who always has an infectious smile on her face!
Cing Hung grew up in Myanmar's Chin State, and fled to Australia in 2019 due to the ongoing violence and unrest. She followed her childhood friend, Huai, who also currently works with Loop.
Cing Hung has been training and working with us for almost a year, and had never sewn prior to working with Loop. She loves the opportunity the Loop program provides her to learn and build new skills, whilst making money.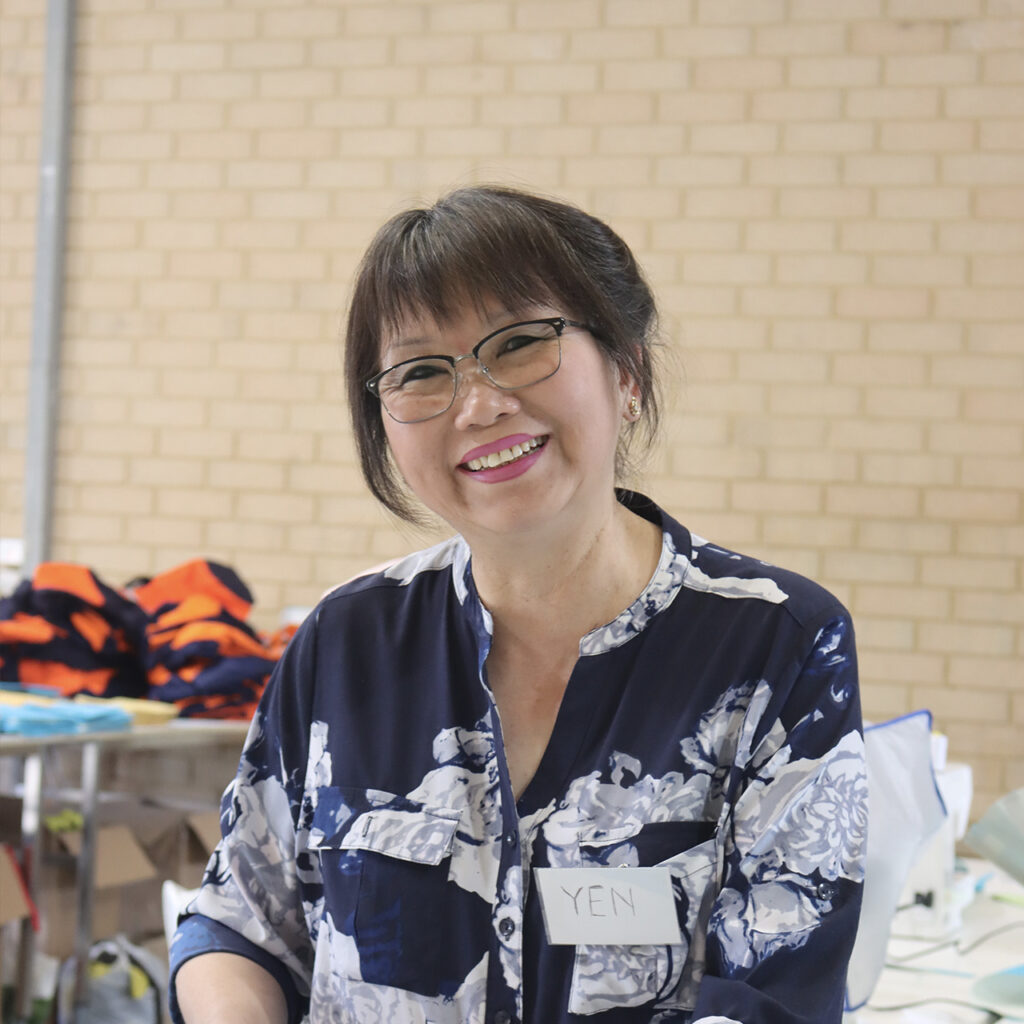 Yen came to Australia from Saigon, Vietnam in 1983, driven by a desire to seek greater opportunities and freedom for herself and her family. As she worked as a tailor back in Vietnam, she has been able to build on her existing skills to find creative and familiar work through our programs.
She not only finds working with Loop fun, but also a good boost for her memory! However, the part she cherishes the most about working with Loop is the supportive community and caring friendships she has made. She continually reminds us of the immense value that comes from fostering a supportive and caring environment.
These two lovely Loop participants are sisters from Myanmar. Together, they left their home country due to the growing unrest and conflict, and came to Australia in the hopes of securing a better future for their children.
Back home, they learnt to sew through their mother and aunties and grew up in a household of 9 sisters and 2 brothers. They are working with Loop to support their remaining family members back in Myanmar.
They love the opportunity the Loop program gives them to learn new skills and socialise with new friends! We're so grateful to be able to provide them with flexible work & training opportunities, and to count them as part of the team.